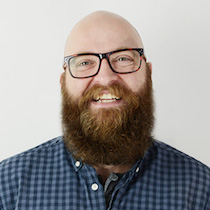 My name is Benjamin Reitzammer.
Currently I'm a Ruby/Rails developer at crispymtn, working on Keyline.
Before that I was CTO for vaamo where I built the team and technology for the first four years of the company. So I'm very much interested in the topics engineering management, team building and fostering a great culture (Hint: questions about these topics are more than welcome). All in all I have 15+ years of experience across various companies and teams.
Outside of work I spend most of my time with my family, the wonderfullest wife in the world and two awesome kids.
Elsewhere ...
I like …
… People.
Especially people getting together to share & learn.
That's why, some (looong) time ago, I started a local Software Crafter community, kicked off the first Coderetreats in that area as an organizer and facilitator, and for the years 2014 and 2015 I was the main organizer of the SoCraTes Conference, together with lots of support from fellow Softwerkskammer-enthusiasts.
That I like people also makes my job as an Software Developer and occasional Manager so crazily enjoyable.
It's also why I like answering questions from anybody. If you have any question for me, contact me or use my AMA repo and I'll answer your question publicly.
… My Family
I'm so very grateful to live in a world, where I can afford to spend lots of my time with my kids and my wife. They all make me a better and a very happy person.
… Coffee
And that's why a podcast, in where I chat with people about people in technology and software development, is aptly named cto.coffee.
… Dotfiles
It's a bit silly, how I still prefer the terminal over many other tools, I even read/write my emails in mutt . So of course I also put my dotfiles up on GitHub to make my working environment slightly portable. They allow me to setup a productive working environment on almost any computer that I get access to and therefore free me of worrying about my computer breaking.