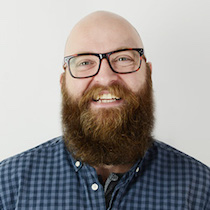 My name is Benjamin Reitzammer. I'm a Software Developer & Manager from Frankfurt/Main, Germany. I take care, that your software projects become the success you need them to be.
Currently I'm working on Keyline with the great folks at Crispy Mountain.
Elsewhere ...
I like …
… People.
Especially people getting together to share & learn.
That's why, some time ago, I started a local Software Craftsmanship community, kicked off the first Coderetreats in that area as an organizer and facilitator, and for the years 2014 and 2015 I'm the organizer of the SoCraTes Conference, together with lots of support from fellow Softwerkskammer-enthusiasts.
That I like people also makes my job as an Software Development Manager so crazily enjoyable.
… My Family
I'm so very grateful to live in a world, where I can afford to spend lots of my time with my kids and my wife. They all make me a better and a very happy person.
… Coffee
… Dotfiles
It's a bit silly, how I still prefer the terminal over many other tools, I even read/write my emails in mutt . So of course I also put my up on GitHub to make my working environment slightly portable. They allow me to setup a productive working environment on almost any computer that I get access to and therefore free me of worrying about my computer breaking.